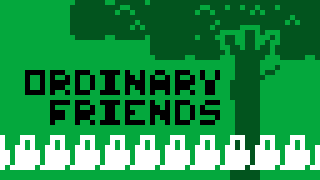 ordinary friends
"what's this? a note?"
How to play:
PC
(ideal experience)
Use the arrow keys to move around. To interact with an object, press the arrow key twice in the same direction as the object.
MOBILE
Swipe quickly in the direction you want your character to move in. Swipe and hold to move faster in that direction. To interact with an object, swipe in the direction of the object, and then tap on the object. (Mobile optimization is a newer feature for Bitsy, so be careful when swiping down.)
Sound provided by AR Sound Effects on YouTube. Link to the video here.